B A S I C S
• Full name: Sergei Cael Thompson
• Age: 26
• Gender: Male
• Zodiac sign: Leo
• Languages: English
• Occupation: member of the Magical Law Enforcement Patrol

The: Magical Law Enforcement Patrol are basically a bunch of witches and wizards at the ministry of magic who are trained to arrest criminals and those who disobey the law. They also examine places where crimes has been made or potential dangers can appear.

• House: Former Hufflepuff

A P P E A R A N C E
• Face claim: Ben Barnes
• Height: 5,9 (180 cm)
• Skin: Fair
• Build: Muscular
• Hair: Dark brown
• Eyes: Dark brown to black
• Tattoos: None
• Piercings: None
• Scars: Few on his arms and back

P E R S O N A L I T Y
• Positive traits: [brave] [cunning] [loyal] [intelligent] [calm] [disciplined] [honest]

For the most part, Sergei is one of those people who is great at adapting to sudden changes and unusual situations, whilst keeping his feet on the ground. Sure, there are moments where he doesn't hold it together, but he's pretty reliable. He can be quest from time to time, but that isn't always a bad thing, it means he's gotten pretty good at listening and problem solving. He is also very devoted and loyal to those he cares for, especially his other family members.

• Negative traits:  [sarcastic] [reckless] [slightly grumpy] [stubborn]

As much as Sergei is great at adapting, there are some things that frustrate him quite easily, (Such as: Childish antics, injustice, naivety) and he doesn't handle frustration very well. He often ends up in a foul mood. He's stubborn too - there's no use telling him to just let something go, because he's like a dog with a bone. Never letting go anything he wishes to acquire.

• Alignment: neutral good
• Likes: Quidditch, family, rain, storms, music.
• Dislikes: Quiet places, childish behaviour.

R E L A T I O N S H I P S
• Sexual orientation: Heterosexual
• Parents: John & Mary Thompson
• Siblings: Noah Thompson (brother), Rose Thompson (sister)
• Other: Sarff Thompson (cousin)
• Relationship status: Single

C H A R A C T E R
Sergei has seen and done enough in his time at Hogwarts to say that he has lived a 'happy' life there; that's not to say, however, that 'happy' automatically equates to 'fulfilling'. The thing about Sergei, is that his happiness or comfort cannot simply be gauged by one thing or another. What makes him happy one day could bore him the next. His indecisive mind can sometimes be a lot to handle.

Sergei is able to see without prejudice, on both sides, which makes him a person who can easily solve problems. Sergei is a dreamer, he's an achiever, and when his back is against the wall he's one of the hardest working guys in the group. Some of that could be attributed to his former obsession with Quidditch, but the majority was linked to the constant desire to always prove himself better than the next. Because after all... He wasn't born into the privilege of being a good wizard, he was born into 'magical bliss of hard work and steadfastness.

P A T R O N U S     M E M O R Y

Sergei's patronus is a rhinoceros.

Hope, happiness, the desire to survive and the best memory you have stored in your mind – All that is needed to cast a good patronus against an opponent. In Sergei's case it is the first time he won a Quidditch finale as a beater.


H I S T O R Y
He closed his eyes and opened them; it made no difference. He slept and woke and slept again. He did not know which was more painful, the waking or the sleeping. When he slept, he dreamed: dark disturbing dreams of blood and the dangers he saw. When he woke, there was nothing to do but think, and his waking thoughts were worse than his nightmares. — Thoughts about his work at the ministry of magic

We all know the dangers that happend not only at Hogwarts, but also in the rest of the world. Dark sorcerers who rise from the dead, death eaters that attack people and creatures that lurk around every shadow and corner. From the moment he was able to read everything about the Battle at Hogwarts the boy knew that he want to do everything to keep the people around him safe. So that a battle like this would never happen again.

Despite his courage Sergei also possess an immense sense of duty, patience and loyalty. And while he started to learn more and more about the dangers of this world he got involved with the ministry of magic and their special forces.


Laatst aangepast door Sergei Thompson op vr nov 30 2018, 14:56; in totaal 1 keer bewerkt
icon + karakterkaart :



IC

:
1


Posts

:
8


Name :
M


Geaccepteerd!
Welcome to the ministry!
Up on the mountain I see down below

It's easy to lose yourself I know
Defence Against the Dark Arts Professor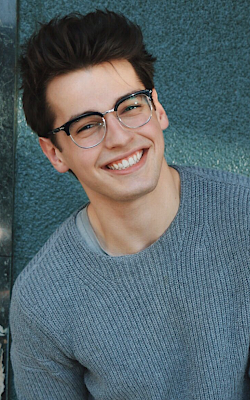 icon + karakterkaart :



IC

:
131


Posts

:
219


Name :
Anouk


---
Permissies van dit forum:
Je mag geen reacties plaatsen in dit subforum