A SONG OF FIRE AND ICE
Need to know
› Name: Jaspar Tehrani
› Age: 17
› DOB: 31/01
› POB: Manchester, UK
› House: Ravenclaw
› Year: Sixth
› Gender: Male
› Sexual Orientation: Undefined
› Occupation: Student
› Wand: Cherry, Dragon, 13 1/4", Quite Flexible
Bounded by love and blood
› Parents Amar & Sofia Tehrani
› Siblings ... & Garsiv
Looks
Face claim:  Zayn Malik
Height: 179cm
Weight: 80 kg
Built: not to muscular, not to skinny
Hair color: Black, but it varies
Eye color: Light brown
Tattoos: a lot
Character
Positive traits: Loyal / Kind / Romantic / Empathic / Understanding / Creative/ Daring/ Trustworthy/
Negative traits: Cunning/ Persuasive / Chaotic/ Sadist/ Rude/ Stubborn/ Speaks his mind
Hobbies: playing guitar, singing, going outdoors, pranking
H I S T O R Y
Jaspar was raised in a family of artists. His father was a tatoo-artist/drawer, his mom was an architect and played the guitar and both his siblings mastered in multiple instruments. So it was destined that the young boy would also roll into the arts. So he did. From a young age he started playing the guitar together with his mother, while his siblings thought him to play the piano. Yet he had also inherited the drawing skills of his parents. Which portrayed itself with lots and lots of drawings on his walls and basically everything he owned.
Yet the boy was a tough nut to crack. He was always in for trouble, going from pranking people to getting himself in to fist fights. It was also very clear that Jaspar was a wizard. But since he was from a pure-blood family that made perfect sense. Growing up in Manchester was a blast, Jasp had lots of friends. He was a very playfull kid. Eventually the day came that the boy went to Hogwarts. The best day in his life, or so his parents had said. It was indeed. Jaspar kept building a wide network of friends, but he also scored some enemies along the way. Not that it mattered to him.
The youngest Tehrani appeared to be as bright as the others, of even brighter. He had good grades and was almost the perfect student. Yes, his temper obviously got in the way. Numerous times the professors had scolded him, but he didn't bother to adjust his behavior. Why would he? He got into trouble, but not that big of trouble that they would actually expel him. So he saw no need in adjusting it. 
Laatst aangepast door Jaspar Tehrani op wo nov 14 2018, 21:20; in totaal 4 keer bewerkt
icon + karakterkaart :



IC

:
12


Posts

:
16


Name :
Caro


Geaccepteerd!
Welcome to Ravenclaw!
Up on the mountain I see down below

It's easy to lose yourself I know
Defence Against the Dark Arts Professor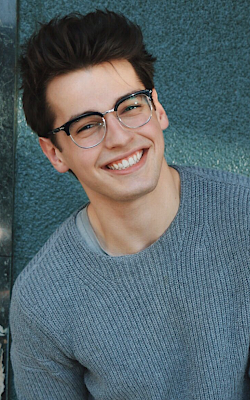 icon + karakterkaart :



IC

:
133


Posts

:
225


Name :
Anouk


---
Permissies van dit forum:
Je mag geen reacties plaatsen in dit subforum